The Irish Hills - Written by Dan Cherry
As immigration into the newly-christened Michigan state territory reached its peak, a small knot of Irish immigrants, some seeking new life in the United States, others fleeing the ongoing Potato Famine of 1846, called a small portion of northern Lenawee County home. The rolling hills and crystal lakes, it is said, reminded them of their home country and they acquired that tangible reminder of Ireland. Names like Kelly, Killarney, Brighton and Monaghan can be found on modern maps, a tribute to the original area in which they resided; the 1 ½ square-mile area around white is now St. Joseph Shrine.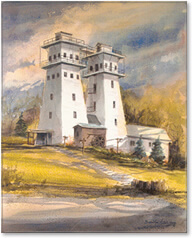 The Irish Hills, as it became known, was transformed from mostly farms and orchards to a tourist destination by the early 1920's. In 1924, the Irish Hills Towers were constructed; by 1930 the shrine and the Stations of the Cross became places of popular, quiet reflection. The Irish Hills quickly embodied the entire lake and hills region and to this day is a sought-out place of quiet beauty that the original Irish immigrants found so appealing.